The CEA–EDF–Inria summer schools have existed since 1961! Let us relive together these decades of history of digital sciences.
A bit of history…
At the beginning, there were CEA and EDF
In 1960, CEA, jointly with Electricité de France (EDF), set up a Summer School on Numerical Analysis. In the CEA annual report of 1960, one can read: "The aim of this summer school is to provide to interested University specialists, as well as to those from the main computing centers in France, a high-level education in the field of numerical analysis".
A first three-week session took place during the summer of 1961 at the Ecole des cadres des Bréaux (EDF). It was attended by 33 participants who followed subjects related to elliptic and parabolic partial differential equations and linear programming. Other sessions were then organized every year in July (1962–1969).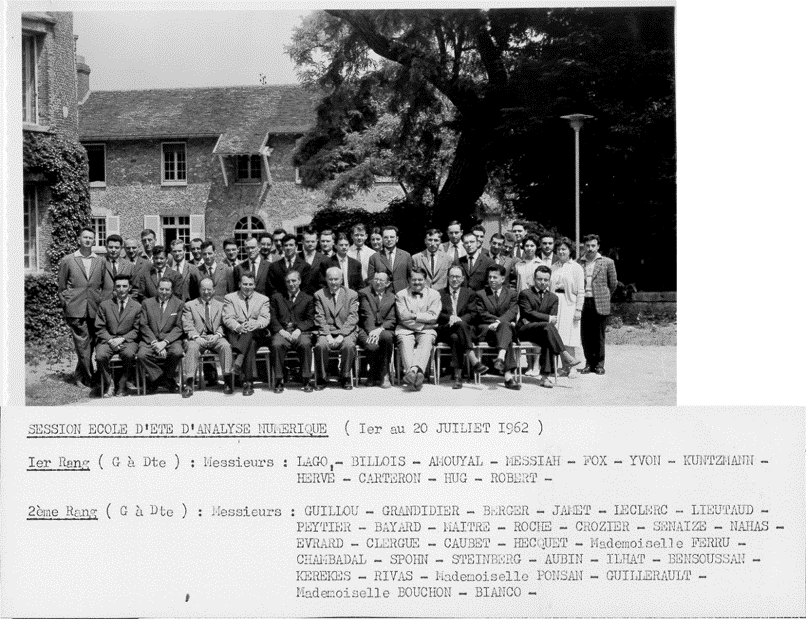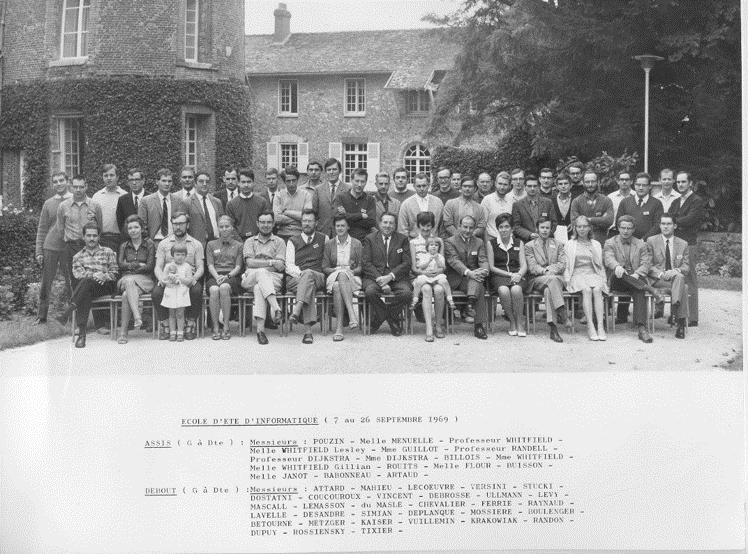 Inria jumps aboard in 1969
In 1969, the National Institute for Research in Computer Science and Automation (Inria) was associated to the project. That same year, the three organizations organized the first session of an Summer School on Informatics.
The CEA, EDF, and Inria still organize these two summer schools every year. Since the 2000s, the themes are often fucused towards high-performance computing.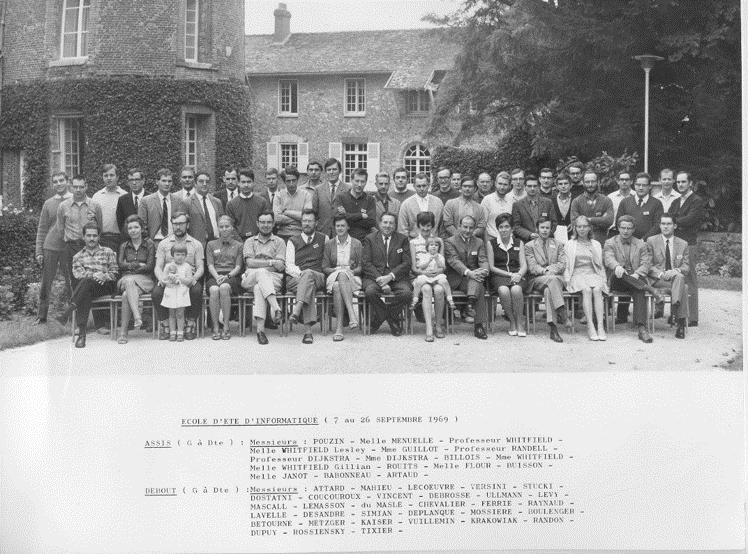 …and of geography
1961–2001, Le Bréau-sans-Nappe, EDF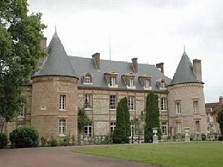 2002–2010, Saint-Lambert-des-Bois, Centre Port-Royal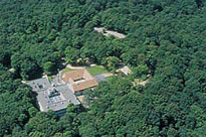 2010–2015, Castle Cadarache, CEA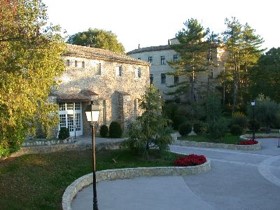 Since 2016, Sorbonne University, Paris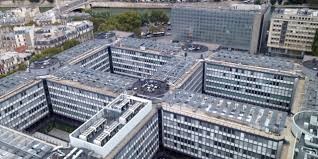 Themes since 1961
Year
Numerical Analysis
Informatics
1961
PARTIAL DIFFERENTIAL EQUATIONS & LINEAR PROGRAMMING
1962
DIFFERENTIAL EQUATIONS
1963
APPROXIMATION THEORY
1964
LINEAR ALGEBRA
1965
PARTIAL DIFFERENTIAL EQUATIONS
1966
CONTROL THEORY
1967
RANDOM PROCESSES
1968
INTEGRAL & INTEGRO-DIFFERENTIAL EQUATIONS
1969
MINIMIZATION PROBLEMS
OPERATING SYSTEMS
1970
DIFFERENTIAL EQUATIONS
MAN–MACHINE COMMUNICATION & GRAPHICS SYSTEMS
1971
CONTINUUM MECHANICS – FINITE ELEMENTS
DATA STRUCTURES AND DATABANKS
1972
SINGULAR PERTURBATIONS
MEASURES & SIMULATION OF COMPUTER SYSTEMS
1973
NUMERICAL METHODS & HYDRODYNAMICS
SYNTAX ANALYSIS & ITS APPLICATIONS
1974
NONLINER SYSTEMS & STABILITY THEORY
COMPUTER NETWORKS
1975
DATA ANALYSIS
FUNDAMENTAL ALGORITHMS
1976
DYNAMICS OF STRUCTURES
SYSTEM ARCHITECTURE & MEMORY HIERARCHY
1977
INTEGRAL EQUATIONS IN PHYSICS & MECHANICS
MICROPROCESSORS & APPLICATIONS
1978
IDENTIFICATION & ADAPTIVE CONTROL
PROGRAMMING METHODOLOGY – THEORY & PRACTICE
1979
NUMERICAL APPROXIMATION OF DIFFUSION – CONVECTION PHENOMENA
INTERACTIVE GRAPHICAL SYSTEMS
1980
LINEAR ANALYSIS OF LARGE SPARSE MATRIX SYSTEMS
NUMERICAL IMAGE PROCESSING & ARTIFICIAL INTELLIGENCE
1981
TRANSPORT EQUATION
DISTRIBUTED SYSTEMS & DEPENDABILITY
1982
NUMERICAL MODELING OF TURBULENCE
LANGUAGES AND TOOLS OF PROGRAMMING
1983
HOMOGENIZATION
PARALLEL COMPUTING
1984
NONLINEAR MECHANICS
COMPUTER-AIDED DESIGN (CAD)
1985
INVERSE PROBLEMS & APPLICATIONS
EXPERT SYSTEMS
1986
DYNAMICS OF STRUCTURES
TRENDS IN NORMALIZED NETWORK ARCHITECTURES
1987
PARTICLE METHODS
SOFTWARE ENGINEERING: ENVIRONMENT FOR DEVELOPMENT OF LARGE SCIENTIFIC CODES
1988
ELECTROMAGNETISM
ROBOTICS
1989
TWO-PHASE FLOWS
DATABASES & OBJECT LANGUAGES
1990
–
INFORMATICS COOPERATIVE
1991
ADAPTIVE MESHES, MULTIGRID, AND DOMAIN DECOMPOSITION
ELECTRONIC DOCUMENTS
1992
SHELL MODELS
PARALLEL COMPUTING
1993
HYPERBOLIC PROBLEMS & APPLICATIONS TO REACTIF & NON-REACTIF FLOWS
VISUALIZATION IN SCIENTIFIC COMPUTING
1994
NEURAL NETWORKS & APPLICATIONS
CONCEPTION & DEVELOPMENT OF USER INTERFACES
1995
MODELING & SIMULATION IN PHYSICO–CHEMISTRY (Applications to Materials and Polymers)
SPECIFICATION & DESIGN OF SOFTWARE
1996
NUMERICAL ANALYSIS OF STOCHASTIC PROBLEMS
DBMS, MONITORS, DISTRIBUTION & PARALLELISM
1997
MULTISCALE METHODS AND WAVELETS IN NUMERICAL SIMULATIONS
SAFETY OF OPEN SYSTEMS
1998
NUMERICAL SIMULATION OF MULTI-MATERIAL TURBULENT FLOWS
PARALLEL TOOLS FOR INTENSIVE SIMULATIONS
1999
OPTIMIZATION
EXTENDED ENTERPRISE: URBANISM OF THE INFORMATION SYSTEM AND OBJECT TECHNOLOGIES
2000
IMAGE ANALYSIS
FORMAL METHODS
2001
RISK ANALYSIS AND MANAGEMENT
SCIENTIFIC SOFTWARE ARCHITECTURE
2002
MATERIAL DAMAGE MODELING
HIGH-PERFORMANCE SCIENTIFIC VISUALIZATION AND VIRTUAL REALITY
2003
ADAPIVE METHODES AND CONSERVATION LAWS
MODELWARE: TOWARDS THE MODELING AND SEMANTIZATION OF INFORMATION
2004
NUMERICAL AND COMPUTER METHODS FOR MULTIPHYSICS COUPLINGS
SECURITY OF INFORMATION SYSTEMS IN HETEROGENOUS AND DISTRIBUTED ENVIRONMENTS
2005
TAKING INTO ACCOUNT UNCERTAINTIES IN NUMERICAL SIMULATIONS
COLLABORATIVE NETWORK WORK
2006
DATA ASSIMILATION IN NUMERICAL SIMULATIONS
DESIGN OF HIGH-PERFORMANCE SCIENTIFIC APPLICATIONS
2007
MULTI-SCALE METHODS IN MATERIALS SCIENCES
ADVANCED METHODS IN SCIENTIFIC VISUALIZATION
2008
MODEL REDUCTION AND OPTIMIZATION
PETASCALE COMPUTING; FROM PROCESSOR TO COMPUTING CENTER
2009
TRANSPORT OF PARTICLES
GRID MIDDLEWARE – EMERGING STANDARDS
2010
MESH GENERATION AND ADAPTIVITY
HIGH-PERFORMANCE COMPUTING
2011
UNCERTAINTY QUANTIFICATION FOR VALIDATION OF NUMERICAL MODELS
TOWARDS THE NEXT GENERATION OF VISUALIZATION SOFTWARE
2012
STOCHASTIC OPTIMIZATION
FUNCTIONAL PROGRAMMING FOR PARALLEL AND CONCURRENT COMPUTING
2013
–
PROGRAMMING FOR HETEROGENOUS PARALLEL ARCHITECTURES
2014
NUMERICAL METHODS FOR INTERFACE PROBLEMS IN FLUIDS AND SOLIDS WITH DISCONTINUITIES
PARALLEL AND DISTRIBUTED DATA ANALYTICS
2015
LATTICE BOLTZMANN SCHEMES
SCIENTIFIC COMPUTING WITH MODERN C++
2016
REDUCED-ORDER MODELS FOR NUMERICAL SIMULATION
–
2017
DESIGN AND OPTIMIZATION UNDER UNCERTAINTY OF LARGE-SCALE NUMERICAL MODELS
ANALYSIS AND TRANSFORMATION OF HPC CODES USING LLVM AND CLANG
2018
FLOATING-POINT ARITHMETIC & CODE QUALITY
AN INTRODUCTION TO MACHINE LEARNING AND HIGH PERFORMANCE WITH JULIA
2019
A NUMERICAL INTRODUCTION TO OPTIMAL TRANSPORT
HANDS-ON TOUR TO DEEP LEARNING WITH PYTORCH
2020
–
–
2021
MULTI-FIDELITY, MULTI-LEVEL, MODEL SELECTION/AGGREGATION: HOW THE PRESENCE OF SEVERAL VERSIONS OF A CODE CAN IMPROVE THE PREDICTION OF COMPLEX PHENOMENA
–
2022
CERTIFICATION OF ERRORS IN NUMERICAL SIMULATIONS
PRESERVATION OF INVARIANTS BY POST-PROCESSING AND ADAPTIVITY (MESH, SCHEME, SOLVERS, MODEL) FOR INDUSTRIAL NEEDS
HYBRID AND ASYNCHRONOUS HIGH-PERFORMANCE PROGRAMMING